Klik hier voor de Nederlandse versie.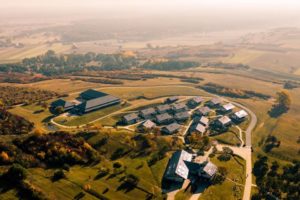 A lazy Wednesday in autumn. Marie-José and I drive in our rented Renault Clio over the Polish highways. We have been looking forward to this for almost a year. After a detour and another highway, the surroundings suddenly turn into bad, bumpy roads between trees with fiery autumn colors. We are on our way to Dojo Stara Wieś somewhere in Poland for the BJJ Globetrotters Zen Camp.
The destination is a small village in Japanese style. It's located in a quiet area surrounded by forests and has a beautiful dōjō. Everything is built here for one goal: experiencing budō.
BJJ Globetrotters Zen Camp
I was worried that because of my sky-high expectations the Zen Camp of BJJ Globetrotters would be somewhat disappointing. Fortunately the feeling disappeared immediately upon arrival. The overwhelming location made all expectations come true.
This camp is dedicated to quality time for body and mind. They are both improved by alternating intense movement with silence and tranquility. Meanwhile, we are immersed in the world of Brazilian jiujitsu and grappling.
A little fun
Every day starts with a delicious breakfast followed by a lovely yoga class from Yogi Jack. This immediately creates the right setting for the rest of the day. Next we participate in one of the many workshops on the mat, lectures off the mat and joining the open mat. Or we just relax with new friends, bathing in the forest, visiting the spa or lying down in a hammock. Everyone determines their own pace during this camp.
Especially the open mat is great. You look around and see someone else walking. Just clapping hands followed by a box and then you're off 'rolling' together. It's unbelievable to be sparring with more than a hundred different people who share the same passion at the same time.
It doesn't matter what gender, age, nationality, faith, sexual preference and skill level someone has. You learn coping with very different styles, all with their own preferences. Due to the interaction during the open mat you learn a lot from each other in a short time. In addition, beautiful friendships grow on and off the mat with like-minded people. An extraordinary experience.
Christian Graugart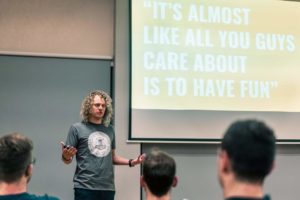 It's all thought out by one man. This wild idea of Christian Graugart has become reality, because he wants to create beautiful experiences from chaos every single time. The Zen Camp and the BJJ Globetrotters community are great examples of him pulling this off.
During this camp he gave a lecture about his method "Create Something". How do you turn an idea into something beautiful? A very inspiring session of which I will definitely put my notes into action.
"It's almost like all you guys care about is having fun"
In the lecture is an anecdote by Christian in which he is accused of only wanting to have fun. He doesn't practice jiujitsu seriously enough according to some public opinion. This really appealed to me.
I have been convinced for years that I have learned the most through crazy stunts ("Björn, do you think this is possible?"). In Poland as well I experienced that you can learn with just playing around and having fun. It goes together hand in hand.
Final kumite
Thus somewhere Poland I rediscovered my love for budō. It is not about the people who abuse it for a sense of power or other bullshit purposes, which makes me drift away from certain organizations and people.
It's all about sharing our beautiful martial arts with each other, regardless of gender, age, nationality, faith, sexual preference and skill level. Making new friends and grow together on our own paths. Coming up with and realizing some cool ideas. Really just having a little fun together…
Sebastiaan